Front Page News
News
Politics
The Texas House Has a Record Number of LGBTQ Representatives
Legislature now has nine out LGBTQ members—all Democrats
By
Alex Nguyen
, The Texas Tribune
For Josey Garcia, being an out bisexual member of the Texas House brings contradicting emotions.
On the one hand, the newly elected state representative feels a sense of pride in serving openly, having spent 20 years of active duty in the U.S. Air Force during the "don't ask, don't tell" era. On the other hand, her first legislative session comes as GOP lawmakers have filed more than 90 bills targeting LGBTQ rights and representation.
The San Antonio Democrat is one of nine Texas lawmakers who are openly LGBTQ — the highest number in state history. And with all of them being Democrats in the House, the openly LGBTQ lawmakers make up close to 15% of their party's members in that chamber. This cohort is also the most diverse yet, thanks to the election of the first three Black and openly gay representatives.
But on the other side of the aisle, the legislation on LGBTQ issues — like limiting public school lessons on gender and sexuality, blocking transgender kids from accessing certain medically approved health care treatments and stopping trans women from participating in women's collegiate sports — have already received powerful support.
"It is a little bit terrifying," Garcia said about this political climate.
Over the past two decades, the LGBTQ community in the U.S. has seen not only rising representation and acceptance in society, but also major legal wins that allow for same-sex marriage and protections for LGBTQ workers. Those gains are now being met with a growing backlash, experts say. Wesley Phelps, a University of North Texas history professor who specializes in LGBTQ history, added that former President Donald Trump's rise also contributed to a persistent "politics of anger" that empowers people to single out particular groups.
"It's a combination of the increased visibility but also just the overt willingness of people to say things that they might not have said before 2016," Phelps said in a December interview with The Texas Tribune.
But amid an increasingly polarizing political climate and a wave of bills targeting their community, openly LGBTQ legislators say this growth in their numbers shows that they have support from a broad swath of Texans. And with nine LGBTQ people serving on various Texas House committees and involved in full chamber debates on legislation, the lawmakers hope they can increase the odds that they'll successfully fight back many of the legislative proposals coming this year.
"There's power in numbers," said state Rep. Julie Johnson of Farmers Branch, who is a lesbian.
There are now eight openly trans state legislators serving across the U.S., according to the LGBTQ Victory Institute. Advocates have called the 2022 midterms a rainbow wave for electing a record number of openly LGBTQ candidates to office.
In the meantime, returning out representatives say they will continue sharing their lived experiences to educate fellow lawmakers on how certain bills will harm LGBTQ people. And with more openly LGBTQ lawmakers representing different backgrounds and parts of the state, they hope that the Legislature will be able to hear more humanizing stories about their community.
But at the same time, some say they feel a sense of exhaustion that comes with having to consistently explain and justify their existence — and that of all LGBTQ Texans — to the state's ruling class. And being part of the LGBTQ community is only part of each of their identities. While the out lawmakers have some things in common, they aren't a monolith, just like the broader LGBTQ community isn't.
"One of the strengths of having so many out members is we all have different expertises," said state Rep. Erin Zwiener of Driftwood, who is bisexual. "It saved us from being pigeonholed in a way that I think was really powerful for helping many people both in this building and in the larger community see LGBTQ people as full humans."
How the ranks have grown
At least nine out lawmakers among 181 legislators may seem like a small number. But it's a record — and it comes more than 30 years since the state's first openly gay legislator served.
Maxey recalled being "extremely closeted" early in his life. But in the mid-1980s, he was outed in the media after he successfully organized the push against the Texas commissioner of health's proposal to quarantine people with HIV.
While his party controlled the Legislature when he became a lawmaker, Maxey remembers his start as a lonely time.
"In my first term, I had legislators who would just yell out, 'Don't vote for the gay guy's bill,'" he recalled.
These open displays of hostility drove Maxey to work even harder to make connections across the Legislature. He would eventually serve six consecutive terms and pass hundreds of bills on wide-ranging issues, including major legislation that expanded access to children's health insurance.
"If you're not sitting at the table, you're going to be on the menu," he said. "And just having an openly gay person there who could interact and make relationships, or having the symbol of the community being just a regular hard-working legislator, was a huge step forward for the community."
After Republicans redrew political maps following the 2000 census, Maxey decided to retire rather than seek reelection against two other sitting Democrats. He left the House prior to the 2003 session, and it would take a decade to fill that gap in representation. Rep. Mary González of Clint, elected in 2012, is the first lawmaker to publicly identify as pansexual. She was the only out lawmaker serving in the 2013 session.
The number of openly LGBTQ lawmakers doubled in 2015, when Austin Democrat Celia Israel, who is a lesbian, became a representative.
In 2019, Reps. Jessica González, Julie Johnson and Zwiener began their first terms — with the last two flipping seats previously held by Republicans. That session, the five out LGBTQ lawmakers in the House also launched the chamber's first LGBTQ Caucus, with Mary González serving as chair. State Rep. Ann Johnson of Houston, who is a lesbian, joined the group after she was first elected in 2021.
Israel didn't return to the Legislature this year after stepping down to focus on an unsuccessful run for Austin mayor. But Texas voters in November sent four new openly LGBTQ lawmakers to the Capitol, a record for a single election cycle. Besides Garcia, the other three freshmen are also the House's first woman and men who are Black and openly gay: Reps. Jolanda Jones of Houston, Christian Manuel of Beaumont and Venton Jones of Dallas. Venton Jones is also the first openly HIV-positive state representative in Texas history.
"It's the most humbling, heartfelt thing I've ever experienced in my life … to be able to run for office and win in a place that used to make me feel like I had to leave," Manuel said.
Jolanda Jones was "stunned" to know that she's the first Black and openly gay member of the Texas House, having won a special election in May. And while she said she doesn't often lead with this aspect of her identity, she hopes to use her milestone to raise awareness for the community, particularly the harm that Black trans women are facing.
"I have had many of those family members come up to me and say, 'Thank you for asking me a question that recognizes our experience,'" said Ann Johnson. "That to me is really critical. It's really important that these families know that even though their interests are perceived to be in the minority, their presence is being represented within this legislative process."
And for Maxey, he finds comfort in the growth of openly LGBTQ lawmakers over the years. He also noted their rise in ranks, such as Mary González's current role as vice chair of the House's powerful Appropriations Committee.
"I feel like a proud papa," Maxey said.
Legislative strategy
With their growing number, the LGBTQ lawmakers see opportunities to put up more roadblocks against legislation they oppose on the House floor — or even in committees, where bills must be cleared before going to the full chamber for approval.
In February, House Speaker Dade Phelan, R-Beaumont, named Ann Johnson as a member of the House Youth Health and Safety Select Committee, which he suggested could receive some legislation affecting LGBTQ people, such as bills that seek to block trans youth from accessing certain health care treatments.
"Attacks on children of our community are going to have a significant impact on the state," she told the Tribune prior to receiving her committee appointment.
Phelan also named Democratic state Rep. Senfronia Thompson of Houston, who is an ally member of the LGBTQ Caucus, as the select committee's chair. The committee that oversees a bill—and who chairs the committee—can play a major role in the legislation's fate. Committee chairs can slow or kill legislative proposals by simply sitting on bills and never putting them up for a vote.
Ann Johnson said she wants to oppose the bills limiting transition-related health care because her district has a significant medical community. She calls them government overreach into how doctors practice.
"I will do everything that I can to defend our medical community to practice sound medicine, which they are doing. Pediatricians don't prescribe child abuse," she said.
But to be successful, out LGBTQ legislators said their work has to start well before bills move through the process.
Like Maxey, they stressed the importance of building connections with lawmakers across the aisle, committees and caucuses — through conversations or karaoke.
"That carries a lot with it when you're having conversations with your colleagues and you say, 'Hey this bill is hurtful to people like me, my community,'" Jessica González said.
She also hopes that these connections and the growing number of out lawmakers will help get airtime for bills that would benefit the LGBTQ community. These legislators and their allies have so far filed over 100 such bills, including many that would ban LGBTQ discrimination broadly.
And in many ways, being out in the Texas Legislature still often means educating others about their own identity.
Julie Johnson described the experience as "a coming-out process all over again," which she said has led some legislators to soften their biases and attitudes about the LGBTQ community.
"Oh my god, there's a lot of education that goes along with it," she said after a laugh.
As a result, out lawmakers are thankful about the growth in both number and diversity among their ranks as they look to share more humanizing stories about their community.
"Being the ones that had to answer for the entire LGBTQ community all the time, that's hard," Zwiener said. "I'm really grateful for [Glen Maxey and Mary González] pioneering, and I'm grateful that I've come in at a moment where we get to celebrate the breadth of our community in a different way, and we're expanding that breadth."
A mix of expertise, experiences and identities
But playing defense against the slate of LGBTQ bills is not the only thing the publicly out lawmakers are hoping to accomplish this session. And they're hoping their colleagues will see that they have valuable experiences, wisdom and identities outside of being LGBTQ people.
"We all really just want to work on bringing something back to our districts," Jessica González said.
"[Domestic violence] is something that affects women, it affects men, it affects people of the LGBTQ community, it affects children and how they develop," he said.
But being openly LGBTQ does inform their legislative efforts on wide-ranging issues.
For Manuel, he highlighted the needs of LGBTQ Texans who live in rural areas, where they don't always have the same supportive spaces, resources or recognition available in bigger cities. And supporting this rural community might require different tools or messaging, he said.
"What I said when I ran is that I am here to represent everyone, so I want to make sure that my legislation protects everyone," he said. "I'm running on what is best for our county, but what's best for our county has to do with me being openly LGBTQ, has to do with me being Black, has to do with me having friends of all races."
Meanwhile, Garcia has her eyes on tackling the state's embattled foster care and juvenile justice systems. She also pointed out that fixing them would go a long way in helping LGBTQ youths, who are overrepresented in the systems, and hopes that these "less polarizing" issues would allow her to find bipartisan collaboration more easily.
"Wins are wins when it comes to protecting our children," said Garcia, who is also a former foster child.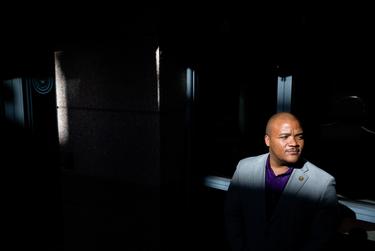 And he and Jolanda Jones — who similarly prioritizes improving health care access — are also looking to tackle the state's high housing costs. Housing is both a bread-and-butter issue for these lawmakers' districts and a big concern for LGBTQ people, who are more likely to face poverty and homelessness.
Ultimately, some out lawmakers would like to see the Legislature evolve to the point that they won't have to band together in a formal group focused on LGBTQ issues.
"But as long as we're discriminated against, I'm going to be a proud member of the LGBTQ Caucus," Jolanda Jones said.
---
This article originally appeared in The Texas Tribune at https://www.texastribune.org/2023/03/07/texas-lgbtq-lawmakers-bill/.
The Texas Tribune is a member-supported, nonpartisan newsroom informing and engaging Texans on state politics and policy. Learn more at texastribune.org.
Comments